Executive Summary
Succeeding in the complex business of healthcare requires embracing healthcare delivery transformation. The process describes the industry's response to the disruptive effects of the transition from fee-for-service healthcare to a new pay-for-value model.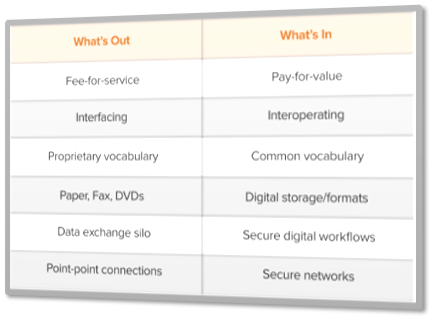 The litany of new initiatives driving healthcare transformation offer a variety of payment models. All require sharing of clinical data across the care continuum, including to patients and their care teams.
Health data exchange is no longer optional:
21st Century Cures Act requires the sharing of clinical data across the care continuum
Data sharing is a critical component of a successful business plan
How sharing options achieve healthcare transformation objectives is a pre-requisite to defining an effective strategy
While many data exchange techniques are available in the market, this paper focuses on a few of the most common approaches that are readily available, economical to implement and are supported by HHS/CMS/ONC via incentive payment programs. These include secure email / email encryption, Direct Secure Messaging and open APIs.